Michele's New Print Celebrating Hummingbirds!
Monday September 24, 2018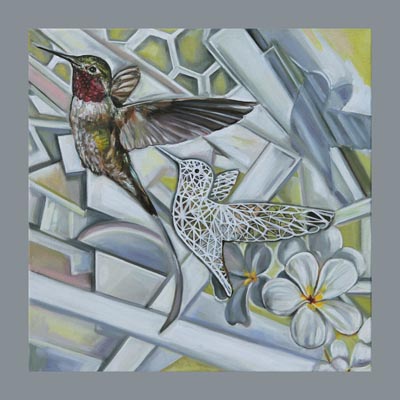 We sure did enjoy this past summer... and one of our favorite features of summertime are the hummingbirds dashing around the yard, flashing their brilliant iridescent colors. Now they are in their final few weeks before packing up for the year and making their difficult flight across the gulf. To celebrate these amazing creatures, Michele painted Shapes&Planes, pictured here, combining hummers with her distinctive use of abstract geometric forms. This piece is available as a low-cost signed archival canvas print at Hyperspacestudios.com/prints, along with a wide range of other fine art prints, most which are color matched and produced in-house here at Hyperspace Studios.

Subscribe to our Youtube Channel for all our latest video updates
©2013 Hyperspace Studios. All rights reserved.
Website powered by TattooNOW