Featured Item - Guy's Biomech Tribal Tee
Friday September 08, 2017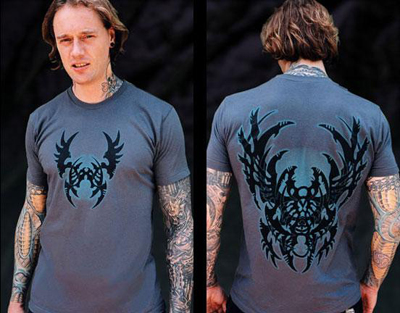 We have just dropped the price on Guy's Biomech Tribal tee shirt, featuring his timeless mech style in a low-key black on grey look. It's silkscreened on a high quality fitted shirt with designs on both front and back. Available in sizes M-2XL. This weekend it's our featured item, meaning not only free U.S. shipping on these shirts, but on any items ordered along with them. Drop by Hyperspacestudios.com to see the other cool wearable stuff in our catalog!
(FREE SHIPPING to US orders only. Shipping to Canada is $10.00 and anywhere else is $20.00.
Order more items and get the shipping special on your WHOLE order!!
Any additional shipping charges will be refunded when order is filled)
Subscribe to our Youtube Channel for all our latest video updates
©2013 Hyperspace Studios. All rights reserved.
Website powered by TattooNOW