Now In Stock: Reinvent Yourself, A Photoshop Tutorial Specifically For Tattooists!
Sunday November 29, 2015
For the past two decades of my tattoo career, I've been using Adobe Photoshop as an essential part of my workflow in everything from design compositing to portfolio page layout. It's been such an important tool that I've included it in the core of my Reinventing The Tattoo educational package since its first edition back in the late Nineties. The current electronic edition of Reinventing was recently edited to bring it up to date with today's version of Photoshop, with plenty of tools and tricks specifically intended for the tattoo artist's workflow.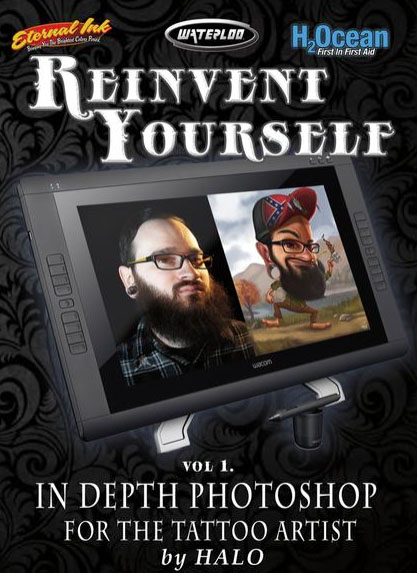 If there is one thing I've learned about Photoshop, it's this- Every Photoshop user will have something to teach you. I recently watched a new video by Halo of Black Lotus Tattoos in Maryland called Reinvent Yourself: In Depth Photoshop for the Tattoo Artist. It's also meant specifically to be useful for tattoo artists, but he's got a whole range of tricks that I'd never heard of in 20 years of using Photoshop. It's an in-depth tutorial that shows you a live screen capture of a number of demonstrations, all which are useful for use in tattoo design. He covers subjects such as:
- Basics even for a beginner
- Learning each tool step by step
- Correcting very poor references
- Manipulating photos for tattoo designs
- Making caricatures of people
- Merging two photos to make one
- Painting out unwanted background
- Endless color choices
- Making a perfect ink palette from a reference
- Making a flawless stencil to save time and stencil ink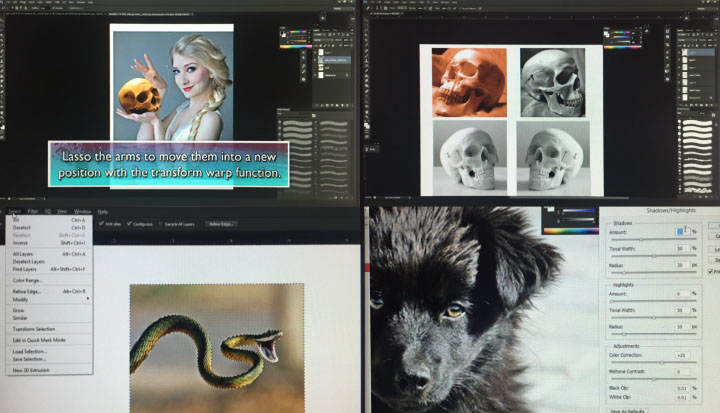 It's a downright useful tutorial and will give you a lot of bang for your buck- Halo has taken not only his experience but all the stuff that he learned in a digital art college course that he thinks is the most useful to tattoo artists, and distilled it down into an hour and forty minutes of smoothly produced information. You can even open the DVD on your desktop and then open Photoshop right next to it, and try out the things that he's demonstrating. I highly recommend Reinvent Yourself for all Photoshop users- even if you have lots of practical experience with Photoshop, I assure you you'll learn something from this course. We've got in in stock now in our online store.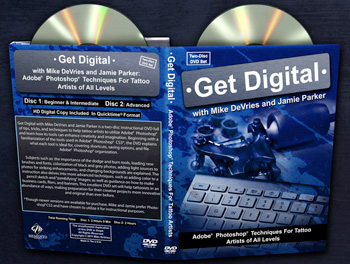 Reinvent Yourself is a great compliment to a DVD set we already carry: Get Digital, by Mike DeVries and Jamie Parker. Get Digital covers a lot of fundamentals, but approaches it much differently than Reinvent Yourself. It's geared toward projects such as business cards and banners that can be of immediate use in your practice, along with many great tricks for working with reference material. Save on shipping by ordering both DVDs, and you'll have a comprehensive library of Photoshop tricks and tools that is sure to get you up to speed and working with digital tools in a way that empowers you as a tattoo artist.
Subscribe to our Youtube Channel for all our latest video updates
©2013 Hyperspace Studios. All rights reserved.
Website powered by TattooNOW