Guy on LA Ink this Thursday!
Monday March 24, 2008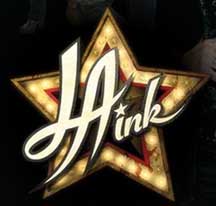 A couple months back, Guy and Michele made a trip out to Los Angeles, partly for a painting performance and partly so Guy could appear in a guest spot at Kat Von D's tattoo shop in Hollywood, for the purpose of filming an episode of TLC's hit TV show LA Ink. Guy's sister Hannah Aitchison has been a cast member of the show since its pilot last year, and has been impressing the viewers in TV land with her stunning figurative tattoo work. For the episode with Guy, brother and sister teamed up to do a large collaborative backpiece project, which they completed in one intensive visit. That same week, Guy also did a biomechanical 3/4 sleeve as well, also under imposing time limitations. We can't show you these pieces here because the show hasn't aired yet- but if you tune in to TLC this coming Thursday the 27th, you can check out these two epic projects.
Subscribe to our Youtube Channel for all our latest video updates
©2013 Hyperspace Studios. All rights reserved.
Website powered by TattooNOW