New Ask Guy Critique Column, Plus A Few Great last-Minute Gifts!
Tuesday December 09, 2014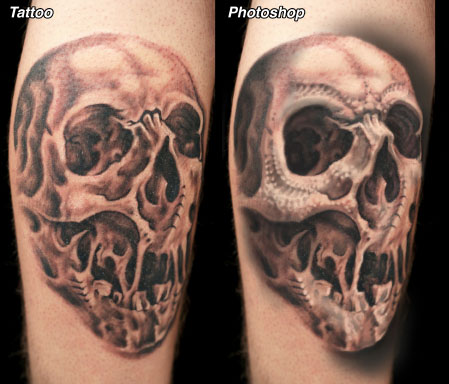 So another edition of my Ask Guy column has hit the newsstands, this time another one centered around a critique of another artist's work. Art critiques have been a standard part of artists' educations since time immemorial, and are something that you'll encounter at art school quite frequently. Many of us in the tattoo industry haven't run across this practice very much, though, which can make it tricky to get honest feedback from others in the profession. I've been enjoying the critique format of the Ask Guy column and have had some very positive feedback. You can see the latest edition in Tattoo Magazine #305, which is available now and also includes a fun interview that I did with artist Adrian Dominic, plus a lot of other fun stuff. You can also check out the column in the Ask Guy archive at my educational website, www.tattooeducation.com.
I also wanted to mention a number of gift pack options that we carry at the Hyperspace Studios online store, some which present a collection of items that can really help fill out your gifting list. This includes things like the Book Jamboree Gift Pack, which has copies of my book Organica, Michele's book Moments Of Epiphany, the multi-artist effort Scratch Art, plus high-quality collector's cards from both Michele and I. Alternately, there is the Tattoo Community Project Pack, which includes a number of books and DVDs about big artistic projects done within the tattoo industry including Scratch Art, the book and DVD set Innerstate, the tiny yet epic Pint Size Paintings book and Paul Booth's documentary The ArtFusion Experiment. Each of these combo packs gives you a great collection of items at a discounted price. Take a look through the Hyperspace Studios online store for more ideas- we guarantee shipping in time for Christmas on all US orders received by December 16th.
Subscribe to our Youtube Channel for all our latest video updates
©2013 Hyperspace Studios. All rights reserved.
Website powered by TattooNOW